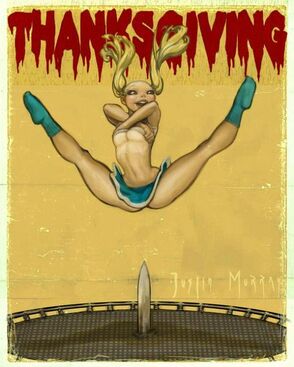 Thanksgiving is a fake trailer seen in the Grindhouse Double Feature. This is the fourth fake trailer, or the fifth for Canada only.
Plot/Summary
In the historical town of Plymouth Massachusetts, a deranged killer dressed like a Pilgrim goes on a killing spree on Thanksgiving day. The turkey will not be the only thing getting stabbed!!
Cast
Jeff Rendell as  The Pilgrim
Liliya Malkina as The Grandmother
Kevin Wasner as The Turkey Pilgrim
Mike McCarty as  The Rioter
Michael Biehn as The Sheriff
Mark Bakunas as The Deputy
The Klando Majorettes as Screaming Girls
Vendula Kristek as The Cheerleader
Petr Vancura as The Boyfriend
Jordan Ladd as  Judy
Eli Roth as Tucker
Jay Hernandez as Bobby
Dan Frisch as The Human Turkey
Chris Briggs as  The Vomiting Cousin
Karel Vanásek as The Grandfather
Katherin-Ellen Zabehlicky as The Granddaughter
Trivia
Eli Roth did the creepy voice-over for his "Thanksgiving" trailer.
Gallery