"
Now how did you know that?
"

— Tammy to J.T.
Tammy Visan is a  supporting character in Planet Terror.
She is portrayed by Stacy Ferguson.
Planet Terror
Tammy was having an affair with Dakota. She was suppose to pick up Tony from the babysitters and leave with him and Dakota.
Tammy was first seen arriving at
The Bone Shack
. Her
car
was having problems. She exits her vehicle with a bucket and got some water to fix it.
J.T.
exits and tells her to get her away from his pumps. As
Cherry
arrives, she asks her if she's okay. Cherry goes inside and J.T. then offers Tammy a gallon of water for her car. J.T. asks her if she wants to come inside but she declines. Later, Tammy's car stopped in the middle of nowhere. She grabs a
flashlight and starts walking off. She tries to signal passing drivers, but they don't respond. She falls and then continues to try to get help. Seconds later, she is attacked by
Sickos
, the same Sickos Romey had lost.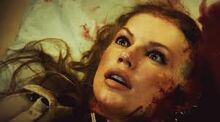 Her dead body is taken to the
hospital
. There
Block
sees her and then he confronts Dakota.
Relationships
She is arriving in town to retrieve Dakota and Tony. They have been secretly contacting each other.
It's unknown if she and Block have met each other.
Etymology
In English, the name Tammy [Pronounced TAM-ee] means- A diminutive of any feminine name beginning with Tam-.. Other origins for the name Tammy include - English, African.The name Tammy is most often used as a girl name or female name.
Quotes
"Are you okay?"
"There's your good spring water."
Gallery
Community content is available under
CC-BY-SA
unless otherwise noted.