"
Are you are a wrecker, Wray?
"

— Hague to Wray
Sheriff Hague is a main character seen in Planet Terror.
He is portrayed by Michael Biehn.
Planet Terror
Sheriff Hague is first seen arriving at the
hospital
with Deputy Tolo and
Deputy Carlos
to apprehend
Wray
. They do so and take Wray to the police station. Hague interrogates Wray and
J.T.
, his brother, calls him. While talking to J.T., he asks him about the BBQ recipe. J.t. tells him that he can't tell him and that no one in Texas will ever give up their recipe, and they would take it to their grave. After talking to J.T.; Tolo enters and Carlos is appointed to handel the situation.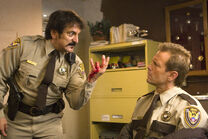 As a battle with Sickos oocurs, Wray intends to go back to the hospital to get
Cherry
. As they arrive,
Wray goes to get her and Hague, along with others, headed for
The Bone Shack
. After the
Missing Reel
, Hague somehow got shot by
Tolo
. A wounded Hague and the others escape and were captured by Muldoon as his men.
At the base, hes stays behind with  J.T. as the others escape. Before detonating the explosives, J.T. informs him of the BBQ recipe.
Relationships
He is always asking J.T. for his recipe. His relationship with J.T. seems to be a rocky one.
He is always 'sticking his neck out' for Wray.
Quotes
"Where the hell are you going?"
"Don't shoot yourself. Don't shoot each other. And especially....don't shoot me."
Gallery
Community content is available under
CC-BY-SA
unless otherwise noted.