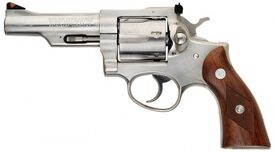 Ruger Security Six is a weapon used in Planet Terror.
Planet Terror
Deputy Tolo uses a Ruger Security Six revolver at the hospital. Sheriff Hague hands one to Wray at The Bone Shack (it changes to a Colt Python after leaving on the pocket bike), while Cherry hands him a Smith & Wesson Model 586. Both are flashily twirled.
Deputy Tolo
Tolo
with his Ruger Security Six outside the hospital.
Wray
Wray aims the Ruger Security Six given to him as zombies take over The Bone Shack.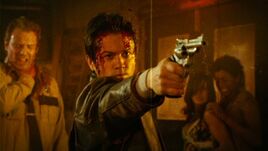 Community content is available under
CC-BY-SA
unless otherwise noted.