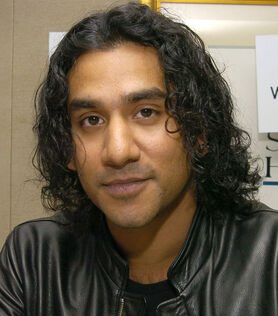 Naveen Andrews portrayed Abby in Planet Terror.
Biography
British actor Naveen Andrews first attracted international attention as Kip, Juliette Binoche's Sikh boyfriend in The English Patient (1996). A graduate of the Guildhall School of Music and Drama, Andrews got his start on television, starring in the popular -- to say nothing of racy -- 1993 miniseries The Buddha of Suburbia. The same year that he appeared in The English Patient, the actor portrayed a haughty king in Mira Nair's Kama Sutra: A Tale of Love, a film whose content inspired no shortage of controversy in India. He subsequently worked in a variety of films on both sides of the Atlantic, including Mighty Joe Young, A Question of Faithm, and Bride and Prejudice. After landing a starring role on the landmark TV series Lost in 2004, Andrews became a household face in the United States, and he soon foundhimself in movies like Robert Rodriguez's Planet Terror, and Jodi Foster's The Brave One. After Lost concluded, Andrews kept his hand in television as well, with a starring role in the UK costume series Sinbad in 2012.
Filmography
Trivia
A fan of country music.
Attended the Guildhall School of Music and Drama along with Ewan McGregor and David Thewlis.
At the age of 16 he caused a stir by moving in with his teacher, Geraldine Feakins.
Has a son Jaisal with Geraldine Feakins.
Although he portrayed an Iraqi on the show "Lost", he is actually British-born of Indian descent.
His first name means "new" in Sanskrit. Until 2009 lived with actress Barbara Hershey, who is 21 years his senior.
Was voted Sexiest Survivalist in 2005 by People Magazine.
Sources
Gallery