Mossberg 500 is a type of shotgun used in Planet Terror.
Planet Terror
Deputy Tolo (Tom Savini) carries a Mossberg 500 in the hospital when Wray is first picked up. Hot Female Deputy uses a Mossberg 500 throughout the film until it's taken by Military Unit. Babysitter Twin #1 (Electra Avellan) carries one when they flee The Bone Shack.
Deputy Tolo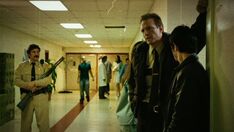 Tolo armed with a Mossberg 500, while
Hague
questions
Wray
about
Cherry
losing her leg.
Hot Female Deputy
Hot Female Deputy
aims her Mossberg 500 outside the police station.
Hot Female Deputy armed with her Mossberg awaiting orders from Wray.
Crazy Babysitter #1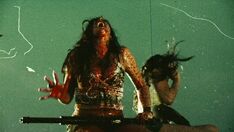 Babysitter Twin #1 getting sprayed with Rusty's blood after he jumped out of the car.
Community content is available under
CC-BY-SA
unless otherwise noted.