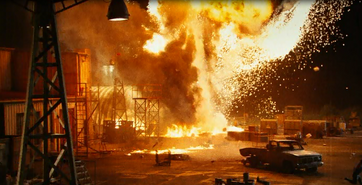 The Military Base is a location seen in Planet Terror.
Planet Terror
The military base is seen in the begining of the film, right after Cherry leaves the go-go club. At the base, Abby asked Romey about his test subjects; they had escaped under Romey's supervision. As his punishment, Abby dismembers Romey before killing him. Lt. Muldoon then exits a humvee and asks Abby about the 'shit'. Abby points out the location of the shit, but Muldoon wants all of it. A shoot out occurs and Abby is captured in the process. Muldoon asks about the 'shit' again and Abby says 'everywhere' and shoots a tank, allowing a green gas to expell from it.
Later the survivors a re taken to the base and are places in the quarantine section. Dakota and Cherry are taken by two men. With J.T.'s aid, Wray and Abby are able to make their way to where they keep the DC2. Later, Muldoon is killed by Wray and Abby. Lewis and Rapist #2 are killed by Cherry as they try to escape. The base is destroyed by  a series of explosives detonated by J.T. Abby is killed while trying to find a cure and Wray is killed by a Sicko as well. The survivors then leave and head for Mexico.
Gallery
Community content is available under
CC-BY-SA
unless otherwise noted.