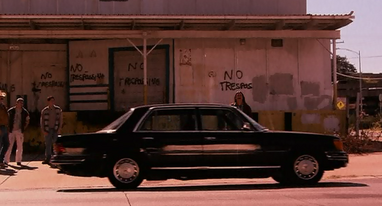 Mercedes-Benz SEL [W116] 1974 is a vehicle seen in the film.
History
The 'new' S-class generation development began in 1966, which was only a year after the launch of the W108/09. This was the first Mercedes saloon to feature the brand new corporate styling theme which was to be continued until 1993 when the 190 was discontinued. The design, finalized in 1969 (frozen in 1970) was a dramatic leap forward, with more masculine lines that combined to create an elegant and sporty character. The basic design concept was actually inspired from the R107 SL-Class roadster, especially the front and rear lights.
The car was presented in September 1972. The model range initially included two versions of the M110 engine (Straight-six with 2,746 cc displacement) - the 280S (using a Solex carburetor) and the 280SE (using Bosch D-Jetronic injection), plus the 350 SE, powered by the M116 engine (V8 with 3,499 cc displacement). Half a year later two new models powered by the M117 engine (V8 with 4,520 cc displacement) were added to the range - the 450SE and the 450SEL (with a 100 mm longer body).
The most notable W116 was the high-performance, limited-production 450 SEL 6.9, which was introduced in 1975, and became the first production car to use an electronic four-wheel multi-channel anti-lock braking system (ABS) as an option from 1978 on. This model boasted the largest engine installed in a post-war Mercedes-Benz up to that time, and also featured self-leveling hydropneumatic suspension.
The 300 SD sedan (USA and Canada only) had a turbocharged 3.0-litre I5 diesel engine developed from the record breaking C111 experimental vehicle.
The 450SEL was named the European Car of the Year in 1974.
Production totaled 473,035 units. The W116 was succeeded by the W126 S-Class in 1979. The W116 was sold throughout Europe, the Americas, Asia, the Middle East, Africa, and Australia.
In The Film
The vehicle is seen in the Machete fake trailer. It is owned by Jeff Fahey's character.
Sources