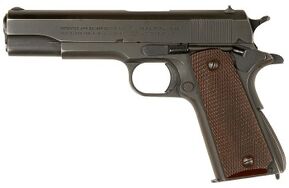 The
M1911A1
is a weapon used in
Planet Terror.
Planet Terror
Lt. Muldoon carries a M1911A1 throughout the film. Rapist #1, uses a Rock Island Armory 1911 to threaten Cherry Darling and Dr. Block.
Lt. Muldoon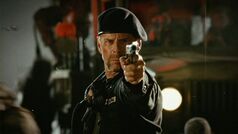 Muldoon fires his 1911A1 at Abby when the deal for the "shit" goes bad. Which misses and hits the guy next to him.
Wray
Wray fires the 1911A1 upside down at the soldier. His thumb would be hurting like hell from the slide recoiling back. Also the grip safety must be faulty in order fire.
Rapist #1
Rapist #1
uses the gun to threaten Cherry as she dances.
Community content is available under
CC-BY-SA
unless otherwise noted.