"
Best in Texas.
"

— J.T.
J.T. is the owner/head chef of The Bone Shack, and is known for having one of the best BBQ recipes in the world. He is Sherrif Hague's brother.
He is portrayed by Jeff Fahey.
Planet Terror
J.T. is first seen as Tammy arrives. J.T. exits The Bone Shack and commands Tammy to keep that 'thing' waay from his pumps. As Tammy fixes her vehicle, he gets a bottle of spring water and gives it to her. Cherry arrives and J.T. tells her to sit anyplace inside and he'll be there in just a second. After Tammy leaves, he goes back inside.
Wray arrives and goes inside. He sits arround the counter, right beside Rusty. J.T. informs him that tonight is the 25th anniversary of The Bone Shack. A while after, Wray leaves J.T. to talk with Cherry. Moments later they leave.
Later, J.T. is on the phone (who that person's identity is unknown), he the spots someone outside. After ending the conversation, he goes outside to tend to the customers.
They don
't respond and J.T. goes back inside. Later, J.T. then calls his brother,
Sheriff Hague
. He informs them that they have been standing there and won't purchase anything or come inside. J.T. ends the call as he see them approaching.
Later in the film, as Hague, Tolo, Wray, Cherry and other survivors arrive at The Bone Shack, they enter and J.T. is lying still, on the floor with Rusty, licking him. He thought of as dead, suddenly, he gets up and armed with a shotgun. He says that he might have fallen asleep after killing the Sickos. After introducing Wray to the escape vehicles, he offers Cherry some BBQ, but she declines. After the Missing Reel, J.T. and the others escape.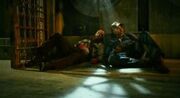 Later, J.T., along with others got captured by Muldoon. He helped Wray and
Abby
escape, getting shot in the process. The other survivors escape as J.T decides to stay behind with Hague. J.T. then informs Hague of his secret recipe as Hague writes it down. Seconds later Hague die and J.T. detonates the explosives to the Sickos in the complex.
Rusty
Main article: Rusty.
Relationships
It appears as if Wray is a regular customer.
His brother, Hague, seems desperate for his recipe, but J.T. won't tell him. His relationship with him might be a little rocky because of this.
Quotes
"You ought to be a comedian."
"That boy's got the devil in him."
Gallery
Community content is available under
CC-BY-SA
unless otherwise noted.