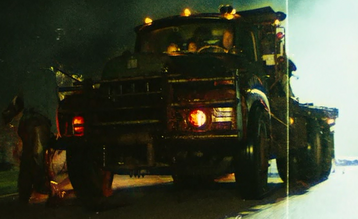 International Harvester R-Series
is a vehicle seen in the
film
.
Overview
The International R series replaced the L-Series in 1953. It was mostly a facelift of the light and medium models. The front style seen on the L series redesigned for the R line. A simple rectangular opening with a tapered bar running across the center replaced the ornate grill design of the L series, and the IH "man on a tractor" logo was placed in the center. The heavy duty models (R-185 and higher) were changed only slightly in appearance, in that four of the seven vertical bars in the upper grille were removed.
There were few mechanical changes in the R line, other than facelifts. There were twenty-nine engines available. Both Cummins and Buda Diesels were now offered in the RD-190 and RD-200 Series, whereas only Cummins had been available, and even then only in models larger than the 190/200 Series.
New Models
There were also totally new trucks available at the IHC dealers in 1953. One was the Tilto Cab R-195 and R-205 with cab-over-engine design. However, only a few units were ever built by Hendrickson. The R-195 had a 24,000 lbs GVW, used a Red Diamond 406 engine, 14-inch clutch, overdrive or direct drive (in top gear) five-speed transmission, and Eaton single reduction rear axle. The R-205 was similar, but featured the Red Diamond 450 engine, heavier transmission and axles, and larger brakes. The standard tire size for both models was 10.00x20 14 ply.
Another vehicle which was not only new to the lineup but practically a new concept was the Fageol van. Known earlier as the "Manhattan Express", it was a marriage of a semi-trailer and a truck chassis, with the driver's compartment in the front part of the trailer cavity.
In The Film
The vehicle is the  Killdozer that
El Wray
uses.
See Also
Sources