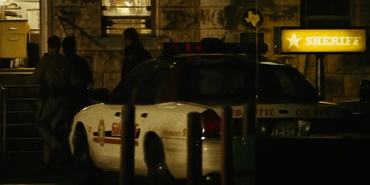 1999 Ford Crown Victoria is a vehilce seen in Planet Terror.
Overview
The Ford Crown Victoria (or simply Crown Vic) is a rear-wheel drive full-size sedan that was marketed and manufactured by Ford Motor Company; it was produced from the 1992 to the 2012 model years over two generations. Discontinued in the 2011 model year, it had been in production since 1991 at Ford's St. Thomas Assembly plant in Talbotville, Ontario, Canada. Dropping its previous LTD prefix, Crown Victoria revived a nameplate used by Ford on a two-door version of the Fairlane sold in the North American market during the mid-1950s.
The Crown Victoria shared the Ford Panther platform and major powertrain and suspension components with the Lincoln Town Car and Mercury Grand Marquis. Along with its rebadged Mercury and Lincoln variants, the Crown Victoria was the final full-frame rear-wheel-drive passenger sedan produced in North America. The durability associated with its layout popularized the use of the Crown Victoria with taxicab and fleet owners going on to become one of the most commonly used police patrol/pursuit vehicles in North America.
(1998–2012)
For the 1998 model year, the second (and final) generation of the Crown Victoria was introduced. Following the lack of acceptance of the radical styling of the 1991-1996 Chevrolet Caprice, the Crown Victoria moved further away from its 1992 redesign. Instead of borrowing design cues from the Taurus, the Crown Victoria shared many of its body parts, including its entire roofline, with the more popular Mercury Grand Marquis. To differentiate itself from Mercury, the Crown Victoria was given larger headlights, different bumpers, and a rectangular grille. The interior design saw little change aside from a new steering wheel.
Mechanically, a revised four-link suspension with a Watt's linkage was added to the rear axle; while not a change to independent rear suspension, general road handling manners improved at the expense of towing capacity. Larger brakes necessitated the standardization of 16-inch wheels. Police cars (P71/P72) switched from full wheel covers and dog-dish covers held onto the wheel by four nubs (on HD Steel Wheels) to a design with center caps that attached onto the lug nuts; these were sourced from the Explorer SUV. Under the hood, coil-on-plug ignition replaced the traditional spark plug wires; a first for the 4.6 L Modular V8, this was a design borrowed from the 3.4 L V8 used in the 1996-1999 Ford Taurus SHO.
In 2005, the Crown Victoria was replaced as Ford's flagship sedan with the introduction of the Five Hundred. However, the 5,424 Crown Victorias sold in January 2007 far exceeded the 3,526 of the newer Five Hundred (rebranded as the Taurus in 2008) which was a more technically advanced full-size car with similar passenger space and better fuel economy.
In The Film
The vehicles are the police car used in the film.
Sources