Sheriff Earl McGraw is a supporting character in Planet Terror.
He is portrayed by Michael Parks.
Character Background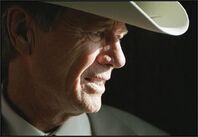 Character played by veteran actor Michael Parks, who appears in From Dusk Till Dawn, Kill Bill and both segments of Grind House, Planet Terror and
Death Proof
. Though this character originally met his fate due to the Gecko brothers, he seemingly survived appearing in two more films. The character's son is Edgar McGraw, also Sheriff, and his daughter is
Dakota
, an anaesthesiologist.
Planet Terror
He is first seen leaving the police station as Sheriff Hague arrives with Wray. Before leaving, Wray asks him about Romona, his wife. The two then engage in a brief conversation. Earl asks Wray if he smokes,  to which Wray says no. After he leaves, Wray immediately starts smoking. Later, at his house, Wray is feeding Romona. Sheriff Hague calls him and asks for his support to defend the survivors from Sickos. After the call, Romona is emmediately turned by the virus. He is forced to kill his wife. Then, Dakota arrives with a dead Tony. After the Missing Reel, he arrives at The Bone Shack with Dakota and Tony. He then stays behind to kill the Sickos. He then saves Dakota by killing Block at the last moments of the film.
Relationships
He seems to not show any concerns for Dakota.
He is always there for Romona.
Etymology
In English, the name Earl means- Nobleman. Based on the English title of Earl. Famous bearer: jazz pianist Earl Fatha Hines;.. Other origins for the name Earl include - English, Irish.The name Earl is most often used as a boy name or male name. Pronounced URL.
Quotes
"Never did like that son of a bitch. About useless as a pecker on a pope."
Trivia
According to Quentin Tarantino, he is a character similar to The Wolf, who can theoretically move between the universe
The character's son, Edgar McGraw is portrayed by Park's real life son James Parks.
Gallery
Community content is available under
CC-BY-SA
unless otherwise noted.