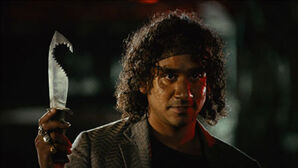 Dismembermentt is a medical procedure seen in Planet Terror.
Definition
Dismemberment is the act of cutting, tearing, pulling, wrenching or otherwise removing, the limbs of a living thing.
Planet Terror
Abby practices dismemberment on those who cross him. He removes the testicles and keeps them in a container. After removing Romey's testicles, he shoots him.
Abby
In the beginning of the film, Abby arrives at the Military Base with Lt. Muldoon. He exits and walks over to meet Romey. Abby notices that the cage beside him was empty. He asks Romey where his specimen are and Romey says that they escaped. Abby says that he will need his balls, Romey responds by saying that he's quite attached to them. Abby follows by saying  that he was quite attached to his specimens. After dismembering him, Abby shoots him.
Deputy Tolo's Death
Dismemberment is also seen in Deputy Tolo's death. After the
Missing Reel
, it is revealed that Deputy Tolo accidentally shot
Sheriff Hague
and The Bone Shack is on fire. As the survivors were about to escape, Tolo is dragged on a table by
Sickos
, they rip his limbs off, splitting him into four.
Community content is available under
CC-BY-SA
unless otherwise noted.