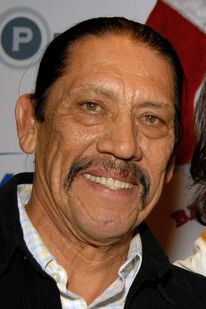 Danny Trejo is an actor, he portrayed Machete in the Machete fake trailer.
Biography
A child drug addict and criminal, Danny Trejo was in and out of jail for 11 years. While serving time in San Quentin, he won the lightweight and welterweight boxing titles. Imprisoned for armed robbery and drug offenses, he successfully completed a 12-step rehabilitation program that changed his life. While speaking at a Cocaine Anonymous meeting in 1985, Trejo met a young man who later called him for support. Trejo went to meet him at what turned out to be the set of Runaway Train (1985). Trejo was immediately offered a role as a convict extra, probably because of his tough tattooed appearance. Also on the set was a screenwriter who did time with Trejo in San Quentin. Remembering Trejo's boxing skills, the screenwriter offered him $350 per day to train the actors for a boxing match. Director Andrey Konchalovskiy saw Trejo training Eric Roberts and immediately offered him a featured role as Roberts' opponent in the film. Trejo has subsequently appeared in many other films, usually as a tough criminal or villain.
Filmography
Trademark
The tattoo on his chest of a woman wearing a sombrero (you see it in almost all of his movies).
Usually plays criminals in one form or another (assassins, prisoners, etc)
Usually cast in Robert Rodriguez's films
Often plays characters who are skilled with knives
Very muscular physique with many tattoos
Mustache
Long hair often worn in a ponytail
Rough scarred face
Deep, gruff voice
Trivia
Has two sons: Danny Boy (b. 1981) from an earlier marriage, Gilbert Trejo (b. 1988) and one daughter Danielle Trejo (b. 1990).
He is one of the most prolific of American actors, having usually done at least 4 films a year since the 1990s. In 2002 alone, he did 9 films.
His character's name in Heat (1995) was Trejo.
Is the only actor to appear in all three of the From Dusk Till Dawn movie series.
Trejo spent much of the 1960s in California prisons--Tracy (1963-1965), San Quentin (1965-1968), Soledad (1968-1969).
He and director Robert Rodriguez are second cousins.
Sources
Gallery