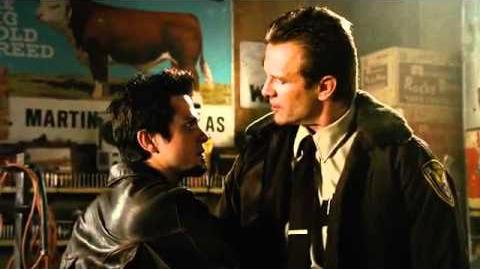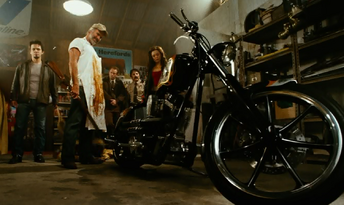 The Jesse James Custom Made Dominator is a vehilce seen in the film.
Jesse James
Jesse Gregory James (born April 19, 1969) is an American television personality and CEO of Austin, Texas-based West Coast Choppers, a manufacturer of custom-made motorcycles. James was the host of the reality TV shows Jesse James is a Dead Man on Spike TV and Monster Garage, on the Discovery Channel, and the focus of the documentary Motorcycle Mania, also on Discovery. Jesse James also appeared in the Tony Hawk's Underground 2 video game.
James's latest venture is chronicling his custom builds at his Austin Speed Shop in his new TV series, Jesse James Outlaw Garage which premiered on April 9, 2012 on the Discovery Channel.
Custom motorcycles and cars.
After several years working as a bodyguard for Danzig, Slayer, and occasionally for other bands such as Soundgarden,James opened West Coast Choppers in his mother's garage in 1992. The company grew quickly and soon moved to a larger facility for select customers and companies. About 200 bikes have been built at West Coast Choppers. West Coast Choppers is also sponsoring race teams in Top Fuel Drags and Super Late Model NASCAR. Jesse James has also built and is racing an off-road Trophy Truck and a Figure-8 race car.
Jesse played linebacker at the University of California Riverside before a career ending knee injury prevented him from continuing his athletic career.
In The Film
The vehicle is owned by J.T. and used by Cherry and Dakota to escape the doomed Bone Shack.
Sources
Community content is available under
CC-BY-SA
unless otherwise noted.