The Bushmaster Carbine is a weapon used in Planet Terror.
Planet Terror
Wray
gives Cherry Darling (
Rose McGowan
) a Bushmaster Carbine, fitted with a Cobray 37mm Launcher, as her new leg. 

Cherry
After Cherry brakes her wooden leg in attempts to stop Lewis, Wray and Abby enters and he gives Cherry a new 'leg'.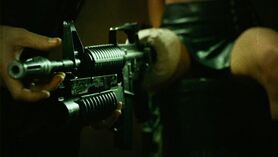 As Lewis transforms into his Sicko form, Cherry then kills him with her new leg.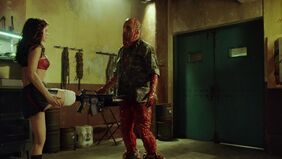 Cherry with her new leg.